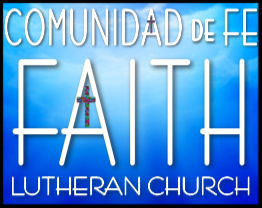 Iglesia Luterana Comunidad de Fe
A Note about Life at Faith LC
Una Nota sobre Vida en Comunidad de Fe
Due to our commitment to support our community in this COVID-19 situation, our church has taken all activity ONLINE!  We will worship with Our Redeemer Lutheran in Irving online at 10am on Sundays in English.  You are invited to worship with us, give online, request prayer, or learn more about us at the links provided to the right.
To download a bulletin for our service on May 24,
click here.
FLC's Plan for Restarting

El plan de CdF para reabrir adoración en persona
FLC is planning to reopen our doors for in-person worship starting Sunday, May 31, with a joint English-Spanish worship service at 10am.  We will do so with guidelines set in place for the security of all who join us that day.  Hope to see you there!